Sims Next Top Model: British Invasion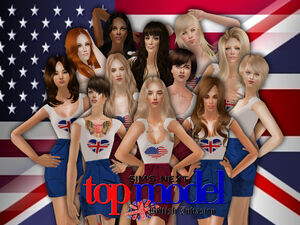 Format: Sims Online Reality Series
Produced by: Californian Sims
Judges:
Tyra Banks (Host)
Martijn Van Kessel
Marcella Van Buren
Seanna Tier
No. of Episodes: 8
Production
Length: 20 minutes
Broadcast
Original Run: June 12th 2012
Website for streaming: YouTube
External Links
Episode Streaming
Sims Next Top Model, better known as SNTM, is an animated modelling program where girls come to compete and show off their modelling abilities, produce and found my CalifornianSims. It will feature 12 models in the ages of 16-26 who were picking among the applications, where one of them will be signed to VIP Models Managment. (6 from USA and 6 from UK)
This show has aired June 24, 2012. As the real show (ANTM), SNTM is hosted by the supermodel, Tyra Banks, followed by the judges, Ms. Jay Alexander, Marcella Van Buren and new to the community, Micky Alexander (inspired from CalifornianSims.) Of course, the 5th spot has been left weekly from a very special guest week after week. The winner was 19-year old Pyrrha Lockhart and she was the first red-haired girl to win Sims Next Top Model, making her the American winner of the British Invasion.
Prizes
The winner of Sims Next Top Model will recieve a contract with V.I.P Models, a CoverGirl contract worth $500,000 and a cover and spread in Vogue Italia and also Beauty in Vogue.
Episodes
Episode 1 - Diamonds and the Desert
Twelve girls, which six girls from USA and six girls from UK meet each other for attend a casting in Mexico, then they meet Tyra Banks, Marcella Van Buren and Micky Alexander. Some girls can impress the judges and some girls are not. After that they had a photoshoot in middle of desert, and in the night they will had a first ever panel, which one of them will send home. So after the photoshoot judges Marcella Van Buren, Seanna Tier, Andy Flowers and Martijn Van Kessel joined Tyra Banks in the panel deciding who will go home first. A Brit or a Yank?
In the end two British models ended in the bottom 2; Louise for her mediocre photo ability and Angelique for not showing her personality and not being mermorable enough. Ultimately, Tyra hands the last photograph to Louise, whose personality saved her, while Angelique becomes the first girl to leave the competition.
First Call-Out: Adalina Jesus
Bottom Two: Angelique Revenwood & Louise Dansby
Eliminated: Angelique Revenwood
Episode 2 - The New Face Of Fashion
After the elimination of Angelique, the girls go to Los Angeles were they meet Micky. He shows them the house were the models will be living the next weeks. Parrish and Louise are talking about the fact that the UK girls have to do better in the photoshoot this week while Adalina is impressed to have the first 1st call out of the season. Semi and Eloise become friends while Alana thinks she doesn't need friends and that she has to focus on the competition. After the photoshoot the top 11 gets a new Tyra mail that says that one girl will have to leave the next day. Arhiana is confident about her place in the competition but Pyrrha is a bit nervous and doesn't know what to expect. When Sara looks outside she sees someone standing there, it's Dick and she seems to be turned in an alien after eating the Chinese food. The next morning the girls go to panel. Who wil be going home? Judges Marcella Van Buren, Seanna Tier, Micky Alexander and Matijn Van Kelles joined Tyra Banks in the panel deciding who will be the next girl to leave.
In panel all the US girls seem to do good again, while almost all the UK girls felt flat. In the deliberation of Louise, she starts a conflict with the judges, they start commenting on the attitude of Louise, which angers Louise and causes her to walk out of set and quit the competition. But the elimination goes on, Sara gets a first call out, while Semi & Alana ended in the bottom two. Semi because of her bad photo, and Alana because some of the judges think she's not ready to become a model and because of her uninspiring photo. Altough Alana had an amazing picture last week, she has to go home; now only 3 UK girls remain and the US girls are all still standing.
Quit from the competition: Louise Dansby
First call out: Sara Howards
Bottom Two: Alana Myssage & Semi Simpson
Eliminated: Alana Myssage
Quit:

Louise Dansby
Episode 3 - Adam Levine and the Payphone models
After the eliminations of Alana and Angelique, and the quitting of Louise, the British girls felt scared for their places in the competition, now, there are only 3 UK girls left. Altough she was scared last week, Pyrrha feels quite confident of her place in the competition after she got 2nd call out in panel. The girls get a Tyra Mail that says the top 9 will have a runway challenge, most girls seem to dissepoint Micky and his wife. Only Sara, Pyrrha & Parrish did good, Micky decided that the walk of Parrish was the best and she gets immunity for the next elimination. At panel, most of the girls were lambasted for delivering mediocre shots. Only Arhiana, Eloise and Parrish received good feedbacks, while Semi and Adalina find themselves in the bottom two. Tyra hands the last photograph to Adalina, resulting in Semi's elimination.
Challenge winner: Parrish Newton
First call out: Arhiana Santos
Bottom Two: Adalina Jesus & Semi Simpson
Eliminated: Semi Simpson
Episode 4 - New Bitch At The Beach
The elimination of Semi saddened the remaining British girls, Parrish and Eloise, but their sadness was soon overshadowed by the announcement of their impending makeovers. Many girls see minimal changes, but Amethyst had her meltdown over the cutting of her hair. After the photoshoot Dick is scared for next panel, don't having any top6 call out and because of her bad photoshoot. The other USA girls want Parrish to go home. Judges Seanna Tier, Marcella Van Buren, Janice Davis and Martijn Van Kessel joined Tyra Banks in panel deciding who will leave the competition next.
In panel were the photos of Dick, Amethyst & Adalina seen as unprofesional and not topmodel worthy. In the elimination Pyrrha gets her first 1st call out when Adalina & Amethyst landed in the bottom. Amethyst because of her unforgivable attitude at the client and because her photo wasn't as outstanding as last week, which makes the judges concerned. Adalina because of her weak photos the last two weeks and because the judges think she just had luck in the first week. In the end Amethyst gets another chance and Adalina is the first USA girl to go home.
First call out: Pyrrha Lockhart
Bottom Two: Adalina Jesus & Amethyst Jones
Eliminated: Adalina Jesus
Episode 5 - My Fashion Looks
After the elimination of Adalina, the first USA girl to go home, Sara and Dick start to gossip about Amethyst, who was in the bottom two last week, saying that she's a fire ball that can explode any minute. After the talk with Dick, Sara tries to understand Dick's crazyness. Amethyst seems to be a bit desperate while the two UK girls left, Eloise & Parrish, are happy to be in the top 7. In the challenge of this week, the girls go to an interview with Fashion designer Kumiko. Amethyst and Eloise do amazingly well, Arhiana seems to come over a bit cold by not showing her personality enough. Sara does great but is a bit too over confident. Dick dissepointed Kumiko because her personality is not as great as her modelling skills. Parrish her walk is great, but Kumiko isn't sure about her photo ability. 2 hours later, Marcella tells the girls that Amethyst is the winner and recieves immunity, 50 extra frames for the next photoshoot & $5000. The girls do a photoshoot for the cover of the magazine FASHION. In panel Amethyst surprised the judges with her fabulous picture, Parrish and Dick kinda sucked but in the end Dick was being eliminate.
Challenge winner & Immunity for elimination: Amethyst Jones
First call out: Amethyst Jones
Bottom Two: Dick Sweat & Parrish Newton
Eliminated: Dick Sweat
Episode 6 - Couture Fashion in Macau
After the elimination of Dick, remain girls fly to Macau for overseas. They do some idiots thing, who make Tyra Banks mad, after that they do styling challenge who Eloise and Parrish won the challenge. In the panel of elimination, Parrish improved and also Arhiana had her another first callout. Sara and Amethyst didn't give great picture this week, who send them into the bottom two. In the end the judges feel Sara make better picture than Amethyst, so Amethyst was third USA girl who went home.
Challenge winner: Eloise Bush & Parrish Newton
First call out: Arhiana Santos
Bottom Two: Amethyst Jones & Sara Howards
Eliminated: Amethyst Jones
Episode 7 - Your True Beauty
After the elimination of Amethyst, remain girls go to Pagoda Shop's to buy some clothes and chinese food but in there they actually will do some photoshoot challenge with the winner from last cycle Kelsey-Rae, Eloise won this week challenge. In panel Arhiana sucked in the bottom with Sara. Parrish get her first ever best photo but in the end Sara was send home because her photo is weak, so she get eliminated.
Challenge winner: Eloise Bush
First call out: Parrish Newton
Bottom Two: Arhiana Santos & Sara Howards
Eliminated: Sara Howards
Episode 8 - Covergirl Add
After the elimination of Sara, Parrish was missing from the house and then Tyra told the remain girls, Parrish decided to quit the competition because she want continue her school and she find out modelling is not for her. The remain girls was very shocked and after that they will the last photoshoot in this competition which they will taking Covergirl Add.
In the end, it was revealed that Pyrrha was Sims Next Top Model.
Quit from the competition: Parrish Newton
Final three: Arhiana Santos, Eloise Bush, Pyrrha Lockhart
Sims Next Top Model: Pyrrha Lockhart
Contestants
(Still in the running unless stated & ages stated are at time of contest)
| From | Contestant | Age | Home City | Creator | Outcome |
| --- | --- | --- | --- | --- | --- |
| UK | Angelique Revenwood | 21 | Liverpool, England | VOXsims | Eliminated in Episode 1 |
| UK | Louise Dansby | 19 | Cambridge, England | Tyriek93 | Quit in Episode 2 |
| UK | Alana Myssage | 21 | Oxford, England | TaraNicoleVside | Eliminated in Episode 2 |
| UK | Semi Simpson | 20 | London, England | sntmfan | Eliminated in Episode 3 |
| USA | Adalina Jesus | 23 | Brooklyn, New York | 1truePOWERsntm | Eliminated in Episode 4 |
| USA | Dick Sweat | 18 | Narnia, New York | simseriesmaker | Eliminated in Episode 5 |
| USA | Amethyst Jones | 18 | New York, New York | yyhalia | Eliminated in Episode 6 |
| USA | Sara Howards | 22 | Queens, New York | LutjuLuTeTe | Eliminated in Episode 7 |
| UK | Parrish Newton | 16 | Surrey, England | realsims18 | Quit in Episode 8 |
| USA | Arhiana Santos | 19 | Miami, Florida | xaleniem | Runner-up |
| UK | Eloise Bush | 17 | Bristol, England | xSNTMx | Runner-up |
| USA | Pyrrha Lockhard | 19 | New York, New York | SNTMGOD2 | Winner |
Summaries
Call-Out Order
Tyra's Call Out Order
Order
Episodes
1
2
3
4
5
6
7
8
01
Adalina
Sara
Arhiana
Pyrrha
Amethyst
Arhiana
Parrish
Pyrrha
02
Sara
Pyrrha
Eloise
Sara
Arhiana
Pyrrha
Pyrrha
Eloise
03
Amethyst
Adalina
Parrish
Eloise
Pyrrha
Parrish
Eloise
Arhiana
04
Alana
Arhiana
Pyrrha
Parrish
Sara
Eloise
Arhiana
05
Arihana
Eloise
Amethyst
Arhiana
Eloise
Sara
Sara
06
Pyrrha
Amethyst
Sara
Dick
Parrish
Amethyst
07
Semi
Dick
Dick
Amethyst
Dick
08
Dick
Parrish
Adalina
Adalina
09
Parrish
Semi
Semi
10
Eloise
Alana
11
Louise
12
Angelique
In Episode 2, Louise quit the competition and it was decided that Alana would be eliminated regardless of Louise's decision to quit.
In Episode 8, Parrish quit the competition and she was therefore not present at panel.
| Color | Definition |
| --- | --- |
| | The contestant was eliminated |
| | The contestant quit the competition |
| | The contestant won the competition |
Makeovers
Adalina: Brown Afro
Amethyst: Blonde and Pixie Cut ´til the neck
Arhiana: Dyed Jet Black
Dick: Wave Blonde
Eloise: Platinum Blonde
Parrish: Dyed Brown with Bangs
Pyrrha: Dyed Red and Shortneck
Sara: Longer Black Hair
Recent Cycles
| Cycle | Premiere date | Winner | Runner-up | Other contestants in order of elimination | No. of contestants | Destination(s) |
| --- | --- | --- | --- | --- | --- | --- |
| 1 | December 9, 2009 | Andrea McAvoy | Jane Dunn | Chris White, Maj-Britt Unabia, Nicole Jackson, Amanda Clarke, Brittany Harding, Veronica Ellis, Jessica Tores, Kesey Smith | 10 | |
| 2 | May 1, 2010 | Cambrilien Yaviria | Christina Maxwell | Vivika Dansby, Esmeralda Simmones, Surella Robinson, Brooke Joseph, Sandra Chang, Kacey Wiliams, Cajovian Keil, Sasha Clown, Sasha Povarova, Harper Joseph, Onika Bridge | 13 | |
| 3 | September 8, 2010 | Cassandra Ward | Vinanique Harvard | Rainee Stuart, Natalee Sanchez, Sophia Longoria, Tia McSullivan, Norelle Marshman, Christie Montero, Naomi Black, Crystal Jones, Chloe Leemans | 11 | |
| 4 | March 19, 2011 | Katarina Voldemort | Kelsey Dudley | Vasilis Vuelma, Maria Tucker, Elodie Henley, Amber Jones,Erin Estevez, Paulina Belen, Tahlia Pickett, Natasha Hudges, Dominique Reighart, Michelle Bromfield, Alissandra James, Yazmin Warsame | 14 | |
| 5 | November 4, 2011 | Kendra Moses | Sasha Thompson | Alasia Preston, Persia Lane, Anabella Copp, Valérie Tarud-Dominguez, Fausta Pietà, Nadia Langalia, Cameron Dian, Mila Angrossa, Alexandria Kmetko, Benay Saana, Bobbie Sue Meyer, Audrey Yost, Marilyn Lewis | 15 | Hawaii |
| 6 | February 4, 2012 | Kelsey-Rae Dorff | Kitten Xendera and Marceline Finn | Yoko Song, Fo McKean, Maddison Pickett, Fatyma Slater, Nasha Foster, Nicole Fox, Izzie Faith Vessey, Jesleen Foster, Samantha Ronson, Sihe Beckford | 13 | Thailand |
| 7 | June 24, 2012 | Pyrrha Lockhart | Arhiana Santos and Eloise Bush | Angelique Revenwood, Louise Dansby (Quit), Alana Myssage, Semi Simpson, Adalina Jesus, Dick Sweat, Amethyst Jones, Sara Howards, Parrish Newton (Quit) | 12 | |
Community content is available under
CC-BY-SA
unless otherwise noted.