</noinclude>
Amy Rose Cotton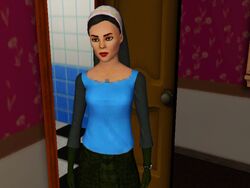 Hi! My name is Amy Rose Cotton!
Name: Amy Rose Cotton
Gender: Female
---
Cotton Family
Parents: Cherilee Cotton, Darren Cotton
Siblings: Emily Cotton, Kaylee Cotton
Spouse: Jack Ruby

The Sims 3

Life stage: Teenager
Traits: Hot-Headed, Bookworm, Computer Whiz, (unknown last trait)
Favorites: Pop, Soup Surprise, Red
---
Neighborhood: Sunset Valley

Amy Rose "Amalia" Cotton was a Sim, based on a real life girl who is still living. She was a heroine for her home town.
Story (Sims 2)
Amalia grew up fast and died young. She was not loved much by her parents and enemies with both of her younger sisters. A theory has said that she was murdered by somebody she once trusted. Whether or not this is true. A story was written about her by a former ally, Natasha Shaw. But the story's ending was false: Amalia disappeared after running away from home. Even though most of the story was true, no one knew what happened to her, not even her creator (Amy Cotton). Some believed she ran off with a boy she dated in High School, but he has since been seen alive. The last time she was ever seen alive was running around a small town telling everyone her spouse is dead. In Amalia's story, only the first chapters were true. The last ones were false, as she left after her 18th birthday. She was found dead in a playground months later.
It was found out she was forced to marry Jack Ruby, the Darkness in the heart of her true love.
Story (Sims 3)
Amalia is alive on Sims 3. She is a teenager, and friends with both Mortimer and Bella Goth (both of whom are now teenagers and dating). She has an outfit similar to the one she had in Sims 2, only without sunglasses, has gloves and the shirt is blue). A bug somehow made her younger sister, Emily, older, but the problem has since been fixed. Despite her gender and outfit, Amalia looked a lot like a Strangetown character from Sims 2 (as a child)(see Trivia below). In Sims 3, she won't get the tragic end she got in Sims 2.
Murdered?
Many people are wondering whether or not Amalia was murdered. Click here to find out more.
Quotes
These are some of her famous lines she said in her life.
"Trust in yourself and you can archive anything"
"Look over there. What is it? Is it a twister?"
"What the!?"
"Are you okay?"
Aperance
Sims 2
Until 8 years old, Amalia wore a black dress with a yellow flower in front of her heart. From 8 to 12, she turned from the dress into a brown T-shirt with a white skirt and sandals. From then on, until her death, she wore sunglasses and had a clip in her hair. After twelve until nineteen, she wore a red shirt and black pants and would talk more.
Sims 3
As a child, Amalia had her hair in a ponytail. She wore sunglasses like she did in Sims 2. She had worn a jacket with a shirt similar to Mortimer's shirt underneath, jeans, and sneakers. Oddly, her face panel can confuse a person with a male Sim from Sims 2. As a teenager, she has gone into a Gothic look with almost everything black or dark green. Her outfit is a hybrid of her Sims 2 and Thrillville: Off the Rails outfits. She looks a lot like Lilith Pleasant and Juliette Capp (both of Sims 2).
Gallery
YouTube Videos
Amalia is to be having cameos in some upcoming YouTube videos. She will have a cameo of her napping as a child (see picture above) in a dedicated video to Michael Jackson, with the song "Leave Me Alone" playing while magic circles around her. A picture of her at the beach will be shown in a video with the song "Liberian Girl", with at the end of the video saying "Our beautiful young girl, Amy Rose "Amalia" Cotton. The one and only "Liberian Girl" of the 21st Century!"
Trivia
Amalia was based on the real life Amalia (Amy Rose Cotton). However, the real Amalia has dark brown hair, wears pink or blue or green everyday and does not wear sunglasses.
She was called Amalia by everyone in the game except her parents. She was sometimes called Bub, Ames, Ashe or once, Angela.
Amalia was the only teenager to befriend lots of adults (but her parents don't care much for her).
As a child in Sims 3, Amalia took on an appearance similar to Pascal Curious, a character in Sims 2. This is due to the fact that they were friends in Sims 2. Amalia is to be friends with almost every child in Sims 3. She, however, is still shy.
A bug has made Amalia's sister, Emily, to be older than her by one day (when in real life, Amalia is 19 months older than her). It has been fixed by growing her to a teenager before Emily.