Miss Sim Universe

Miss Sim Universe 2011 Official Logo

Formation

2008

Headquarter

New York

Location

USA

Official language

English

President

Fer Gonzalez

Current Titleholder

Cailín Áine Doyle

Country

Ireland
Miss Sim Universe is an annual international sim beauty contest. It's the most important sims beauty pageant in the world, and it has been an inspiration for many others beauty pageants like Miss Sims World, Miss Sims or Miss Sim Earth. The contest was founded in 2008 in Spain by J.K., and after the Miss Sim Universe brand has been owned by Rodolfo Mendieta (Mexico) , Dat Torres (Colombia) and Fer Gonzalez (Mexico) the current Miss Sim Universe president. The contest is based on Miss Universe beauty contest. It was aired for first time in Summer 2008 in missimworld Channel of YouTube.

As of 2018, 634 delegates have competed and 132 countries have been represented. The competition has been hosted by nine cities: Tokyo, Japan (2008), Santo Domingo, Dominican Republic (2009) Athens, Greece (2011), Johannesbourh, South Africa (2012), Sydney, Australia (2013), Mexico City, Mexico (2014), Las Vegas, USA (2015), Bangkok, Thailand (2016), Kiev, Ukraine (2017), and Paris, France (2018). The Logo is inspired in the Miss Universe official Logo in 2008: "The Woman with the Starts", but with several changes thorugh the years. The contest has been held every year since 2008 except in 2010, when it suffered an hiatus process for troubles with the Organization.
The current Miss Sim Universe is Cailín Áine Doyle, from Ireland.
History
Miss Sim Universe was aired for first time in Summer 2008, in missimworld Channel on YouTube. It was founded by J.K at age of fifteen. The idea of this young men from Spain was to make a different show with Sims. He tried a year before to make another sims beauty pageant called Miss Sim World thus of the Channel on YouTube). The first edition of this contest was very succesfull, it has more than 20 delegates and finally Nashira Galistera from Turkey was crowned Miss Sim World 2007. One year later he tried to do it again, but the fame of the contest dissapeared, nobody
sent sims... so he forgot the idea of a Beauty Pageant for sims. Several months later he decided to try it again, to make a beauty contest but with everything made by him: the delegates, the stage, the runways... He did it and it was so sucesfull, the people loved to watched it and it had more than 8,000 visits to date. A year leater he did again and the people received it with hand open, it had 8 more delegates and 50,000 of share. Now it has become in one of the most waited shows along YouTube, it has become so international and famous. Third edition was waited to be broadcasted in Summer 2010, but due to technical problems and trouble with the organization the contest suffered one year hiatus.
In 2011 it was announced that the contest was going to have a new president: Rodolfo Mendieta from Mexico, who already owned the Miss Sim Mexico Pageant, so J.K, MSU's creator, left the contest after 3 years and 2 editions. The third edition was finally realized in last 2011, ended in 2012, becoming the very first year that the winner was crowned in the following year. It had almost 60 delegates, who were the same delegates who were going to compete in 2010 edition. Despire being one of the less watched edition, the organization apologized because they had not much time to make the contest, and they already promised to make 2012 edition even bigger. The 2012 edition finished, aswell than 2011, in the following year... with a similar share than 2011 but better quality.
In early 2013, shortly after ending the 2012 edition, Rodolfo Mendieta announced he was no longer the president of Miss Sim Universe. Earlier that year, on February 10, 2013, Dat Torres, owner of Colombia's franchise on Miss Sim Universe, announced he was no going to send any more Colombian winners to the Miss Sim Universe competition:
"The decision was hard to take. It's a huge door that I closed, to open a new one that is even bigger. 'Dat Torres - Miss Sim Colombia Owner (2010 - 2013)"
Finally on March 10, 2013, just one month later it was finally revealed that this decision was because Dat Torres was chosen as the new Miss Sim Universe President, who is running the contest to date.
The Main Event
Miss Sim Universe aims at finding the most beautiful sim in the world, to do so, a panel of judges, comprised of expert in beauty pageants, evaluate each delegate.
The semifinalist announced during the Final Night are chosen by a panel of judges who viewed all contestants during a preliminary competition held a week before the coronation night of Miss Sim Universe 2018. The preliminary competition is usually held in private, it has been broadcasted in 2013, 2014, and 2018.
The show is divided into three major parts:
Contestants Presentation
Swimsuit Preliminary Competition 
Evening Gown Preliminary Competition
On the Final Night, the first round is Swimsuit Competition, where the Top 15/16/20 parade with the same swimsuit. Here they valorate all the qualities that a beauty queen should have, but in this round the most important features are the body and the runway performance. After this competition the judges choose the Top 10.
The second round is the Evening Gown Competition. Everyone have a different dress. In this round the most important thing is the elgance of the girl. After this competition the judges choose the Final Top 5.
Then, the Top 5 compete in the Final Questions round (not held in 2009), where they have to answer a question from the judges, from the public since 2015. Here they should demonstarte their intelligence and eloquence. The question is answered by the creator of the sim.
Before 2015, after the Final Questions round, the Top5 compete in the Final Look competition. Then scores from the Final Questions round determines the runner-ups and the winner.
Since 2015, the Final Questions round determines the Top 3. Then the Top 3 compete in the Final words round in which they have to answer the same question. The scores from the Final words round determines the runner-ups and the winner.
Before the show begin, the girls have activities around the country were the contest took place, like sightseeing... And they also have an Official Photoshoot: (A close-up shoot, swimsuit shoot and evening gown shoot).
Candidates
The delegates to compete in Miss Sim Universe beauty contest are sent by the poeple who watch the show. Everyone who likes making sims and like beauty competitions are able to send their contestants. All them must prepare their best sims, send them with their dresses and their look (hair, make up...) that they wanted that their sims have in the Final Show.
Crown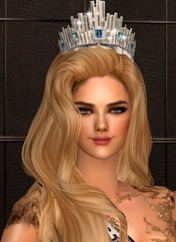 Miss Sim Universe Organization has had three crowns in its two editions: one of them is from Modthesims and the other one is original. The first one was used in MSU 2008, it was from ModtheSims Download Website and was designed by Rock Chick and it was called "Charmaine Tiara". The second one was made by Miss Sim Universe Organization, it is based on real Miss Universe crown used from 2001 to 2007. It was called "Dominicana Tiara" in honour of the host country where it was used for the first time: the Dominican Republic. In the 2011 edition, the crowned was changed one more time for a new jew inspired in the "Peace" Miss Universe Crown. A new crown was presented during Miss Sim Universe 2015 final night, it is based on original Miss Universe's D.I.C crown.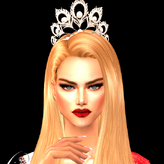 The current crown was presented in 2017, it is based on the original Miss Universe Mikimoto crown.
The Mikimoto crown was designed by Monarca.
Titleholders
| Year | Country | Miss Sim Universe | City | Location |
| --- | --- | --- | --- | --- |
| 2018 | Ireland | Cailin Aine Doyle | Paris | France |
| 2017 | Mexico | Alejandra Garrido | Kiev | Ukraine |
| 2016 | Kenya | Lucca Vadhi | Bangkok | Thailand |
| 2015 | Kosovo | Aferdita Prishtina | Las Vegas | United States of America |
| 2014 |  Israel | Leona Delevingne | Mexico City | Mexico |
| 2013 | Trinidad & Tobago | Susana Ferreira | Sydney | Australia |
| 2012 | Colombia | Dayana Vargas | Johannesburg | South Africa |
| 2011 | Indonesia | Endhyta Salim | Athens | Greece |
| 2009/2010 | Brazil | Natalia Manganeli | Santo Domingo | Dominican Republic |
| 2008 | Puerto Rico | Bárbara Ortiz | Tokyo | Japan |
Titleholders gallery
Grand Slam Ranking
The Grand Slam Ranking is the official ranking of the most competitive states in Miss Sim Universe. It is based on the placement of the representants from each country (Top 15, 10 and 5) and Special Awards (Miss Congeniality, Miss Elegance, Miss Popularity and Miss Photogenic). The current best country after 2017 edition is Colombia with 106 points for finishing 1st in 2012, 2nd in 2014 and 2015,Top 10 in 2011 and 2016, and Top 15 in 2008 and 2009. Following Colombia, there is Mexico with 89 points, Indonesia, Philippines and Japan round the Top 5. 
Winner: 25 points
1st Runner: 20 points
2nd Runner: 18 points
3rd Runner: 17 points
4th Runner: 16 points
5th Runner: 15 points
Top 10: 10 points
Top 15/16: 5 points
| Place | Country | Score |
| --- | --- | --- |
| 1 |  Colombia | 106 |
| 2 |  Mexico | 89 |
| 3 |  Indonesia | 76 |
| 4 |  Philippines | 70 |
| 5 |  Japan | 61 |
| 6 |  Brazil  | 57 |
| 7 |  Trinidad & Tobago | 49 |
| 8 |  India | 48 |
| 9 |  Israel | 45 |
| 10 |  Puerto Rico | 43 |
| 11 |  China | 41 |
| 12 |  Venezuela | 38 |
| 13 |  Malaysia | 37 |
| 14 |  Ecuador | 34 |
| 15 |  Italy  | 34 |
| 16 |  Greece | 33 |
| 17 |  Bolivia | 31 |
| 18 |  Kenya | 30 |
| 19 |  Kosovo | 30 |
| 20 |  USA | 30 |
| 21 |  Aruba | 29 |
| 22 |  Argentina | 28 |
| 23 |  Jamaica | 28 |
| 24 |  Australia | 27 |
| 25 |  France | 27 |
| 26 |  Nicaragua | 27 |
| 27 |  Panama | 26 |
| 28 |  Turkey | 26 |
| 29 |  Paraguay | 25 |
| 30 |  South Africa | 22 |
Statistics
The public voting was included since first edition. But the votes didn't have the same value due that in 2009 edition we have much more votes tan in 2008.
The highest score in an Official Gown Competition was 9,342 and belongs to Japan 2008, Emi Kuzuya
The highest score in a Swimsuit Competition was 9.75 and belongs to Indonesia 2011, Endytha Adira Salim
The highest score in an Evening Gown Competition was 9.829 and belongs to Colombia 2012, Dayana Vargas
The highest extra score provided by the public was 3.9 and belongs to Japan 2008, Emi Kuzuya
The highest number of votes provided by the public was 38 points and belongs to Miss Bolivia and Miss Germany 2009, Paloma Dias and Juliane Stegmer
The audience weren't able to choose one of the semifinalists until 2012.
Locations
All the locations are from a different continent (Asia in 2008 and 2016, America in 2009, 2014 and 2015 , Europe in 2011, 2017 and 2018, Africa in 2012 and Oceania in 2013)
Host country didn't place in Top 15 in 2011, 2012, 2013, 2016 and 2018.
In 2009 the show was held in two different places in Dominican Republic due to technical problems
Competing States
Colombia and Spain has placed in the same position (11st) in two consecutive times (2008-2009 Colombia / 2012/2013 Spain).
Kazakhstan, Bolivia, Guatemala, Indonesia, Israel, Malaysia, Ecuador, Ethiopia, Cuba, US Virgin Islands, Bulgaria, Latvia and Paraguay entered in Top 15 in their first time compiting
Four winners are five America (2008, 2009, 2012, 2013 and 2017), two from Europe (2014 and 2015), one from Asia (2011), and one from Africa (2016)..
The winner who have win a special awards are: Barbara Ortiz (Miss Photogenic), Natalia Manganeli ( Miss Popularity), Endytha Salim (Miss Popularity) and Alejandra Garrido (Miss Multimedia).
All the continents have place in Top 15 at least one time.
22 countries have take part in all the editions: Angola, Australia, Brazil, Canada, Colombia, Czech Republic, Dominican Republic, France, Greece, India, Italy, Japan, Mexico, Panama, Philippines, Russia, South Africa, Spain, Thailand, T & T, USA and Venezuela.
Czech Republic is the only country that has always compete but has never make any cut
Community content is available under
CC-BY-SA
unless otherwise noted.