Miss Sim Universe 2009

Miss Sim Universe 2009, Natalia Manganeli

Date

August 14, 2009

Entertainment

Alesha Dixon, Enrique Iglesias

Venue

Crown Convention Center and Colon Park, Santo Domingo, Dominican Republic

Broadcaster

YouTube Misssimworld's channel

Entrants

45

Winner

Natalia Manganeli Brazil

Congeniality

Ludmyla Huzz Jalaf Denmark

Photogenic

Munai Gonzalez Philippines

Elegance

Paloma Dias Bolivia

Popularity

Natalia Manganeli Brazil
Miss Sim Universe 2009, the 2nd Miss Sim Universe pageant, was held in Crown Convention Center and Colon Park in Santo Domingo, Dominican Republic (due to technical problems the organization had to move to Colon Park during the competition, so this was the first and only time that the contest was held in two different locations) on Summer 2009, on August 14, 2009. Forty four contestants (10 more than in last year competition),  compited in the event which was broadcasted and dristributed globally via Internet, on misssimworld Channel in English; and was watched by an audiencie of 60,000 viewers worldwide, becoming the most watched edition to date. The Top 15 Announcement was watched for more han 76,000 viewers, becoming the most watched moment in Miss Sim Universe history.
The final show was presented by famous actor and recognized "Hugo Boss Campaign" model, Jonathan Rhys Meyers and the famous actress and "desperate housewife"Eva Longoria. Famous singers Alesha Dixon and Enrique Iglesias sang during the event in Swimsuit and Evening Gown Compeititons.
At the end of the event Barbara Ortiz crowned Natalia Manganeli from Brazil, who become Miss Sim Universe 2009.
Host city
On 4th April, 2009 the Miss Sim Universe organization finally announced that Santo Domingo, Dominican Republic was the official host city to held the 2nd edition of the contest. The other countries which fought to take home the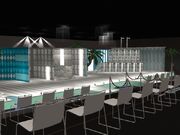 event were France, Trinidad & Tobago and Australia (which would host the competition in 2013). The election of the country was because of the thematic that the organizers wanted to give to this year pageant, based on water and caribbean.
Firstly the competition was held in Crown Convention Center, made exclusively for the competition. A huge stadium was build (larger than last year edition) with a capacity of more than 1,000 viewers were there was a stage sorrounded by a small pool. During Top 5 announcement and due to technical problems, the competition moved to another location, to Colon Park in Santo Domingo, in a way smaller outdoors stage the winner was announced.
Areas of competition
During the final competition, all the delegates had a presentation mini-runway called: "Meet the Delegates", of this way the judges can valorate their presence and overall beauty. The top fifteen contestants (based on their Meet the Delegates presentation scores) competed in the swimsuit competition, and the top ten (based upon individual swimsuit scores) competed in evening gown. Due to tehcnical problems the Final Questions Competition was cancelled, so after the Top 5 announcement (based upon individual evening gown scores) the winner was announced.
Background music
Meet the Delegates: Dance Hits Remix
Swimsuit Competition: Alesha Dixon "The boy does nothing"
Evening Gown Competition: Enrique Iglesias "Tired of being sorry"
Judges
Miss Sim Universe Organization
Martijn V Kessel. Recognized Sims 2 machinima and photographer
Dora Crotova. Miss Sim Europe 2008
Mr. Milton Davidson. MasterModel Agency President
Liana Sims. Sims 2 Fashion Designer
Marc Vercettie. Sims 2 Fashion Designer
Jam Serramo. Beauty pageants expert
Jorge Arbelaez. Miss Doll Universe President
Aidan Smeaton. Recognized Sims 2 machinima
Sam Raj. Beauty Pageant expert
Results
Final results
Contestant
Miss Sim Universe 2009

Brazil - Natalia Manganeli

1st Runner-Up

Bolivia - Paloma Dias

2nd Runner-Up

India - Nafissa Kaur

3rd Runner-Up

France - Daphnée Plantard

4th Runner-Up

Greece - Ariadne Floros

Top 10

Kazakhstan - Margarita Nassyrova
Italy - Isabella Montesanti
China - Jia Li Feng
Thailand - Akemi Ichiro
Germany - Juliana Stegmer

Top 15

Colombia - Sofia de la Ossa
Spain - Aina Fernandez
Russia - Anna Ivanova
Australia - Kiana Derosa
Dominican Republic - Nadia Rodriguez
Statistics
Brazil won the crown for first time
Both winner are from South America
The Top 2 was formed by two south american girls
The Top 15 was formed by 3 girls from America, 4 girls from Asia, 6 girls from Europe and 1 girls from Caribbean.
The Top 5 was formed by two latins, two europeans and one asian. The two latins stayed in the two first potitions, the two europeans stayed in the two last potitions and the asian stayed in the middle.
Colombia placed in 11th position for second time in a row
Countries that also placed last year: India, Colombia and Russia
No one of the Top 5 countries of 2008 placed in Top 15, including 2008 winner: Puerto Rico
15 countries debuted in 2009 competition: Bolivia, Chile, China, Costa Rica, El Salvador, Ireland, Kazakhstan, Kenya, Lebanon, Malysia, Netherlands, New Zealand, Sweden, Ukraine & UK
5 countries compited in 2008 Miss Sim Universe competition but not in 2009: Aruba, Belgium, Egypt, Nicaragua & Tanzania
3 of the Top 15 countries were debuting
The best debut was for Miss Bolivia, who ended as 1st Runner Up
Community content is available under
CC-BY-SA
unless otherwise noted.