Rodney Smith
Rodney Smith is a Sim created by Zmario. 
He is currently an retired Elder from the military career track. 
His original wife, Virgina Smith, died from unknown causes. 
Before his wife's death, Rodney and Virgina had a baby girl named Petunia. 
Rodney soon got remarried to Jan Tellerman, a local townie who works in the same career as Rodney. 
Rodney got married on his last day of being an adult.

Skills
Cooking: 5
Mechanical: 4
Body: 7
Logic: 4
Creativity: 6
Cleaning: 3
Charisma: 20
FRIENDS
Dr Ross Geller/Aaron Tang/Ossie Madison/
Job Artist model
Hobbies
loves his many posters including Barbie Usher
l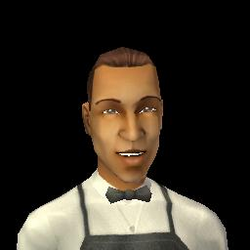 Rodney Smith
Name
Rodney Smith
Gender
Male
Life State
Human
Life stage
Elder
Aspiration
Knowledge
Sign
Aquarius

---

Parents
None
Sibling(s)
None
Spouse(s)
Virgina Smith (deceased), Jan Tellerman
Child(ren)
Petunia Tellerman

---

Neighborhood
Pleasantview