Sims Next Top Model
Season 3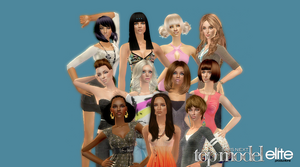 Judges:
Jasmine
Antonella Gianno
Trey Jones
Carrie Anderson
No. of contestants: 11
Winner: Loca Torres
Country of origin: Canada
No. of episodes: 7
Release
Streaming service: YouTube
Original release: July 3 - August 11, 2012
External Links
Cycle 3 on YouTube
Sims Next Top Model, cycle 3, premiered July 4, 2012, and aired on YouTube via Elite Productions. The season's catchphrase was "Out With the Old and in With the New". Elite Productions announced on December 29, 2012, that they were cancelling the show despite initially renewing the series for a fourth season and the finale episode aired on August 11, 2012.
A few major changes were made this season. The show was moved to Miami after being filmed in Los Angeles during cycle 2. The number of contestants was also decreased to 11, down from 13 contestants in cycle 2. Finally, the judging panel was also completely altered; Jasmine took over as the main judge and presenter replacing Tyra Banks, Karolina Kurkova was replaced by a well-known celebrity hair stylist, Antonella Gianno who was later replaced by Carrie Anderson, the manager of S. Models INC (formerly Star Model Management & Star Models) following an altercation with Jasmine in episode 3, and Milton Davidson was replaced by Trey Jones. This cycle also is the first cycle to not invite viewers of series apply with sims they created in hopes of them being included as contestants. The 11 contestants featured in this season were chosen by Elite Productions from variety of content creators at Modthesims.

The prizes for this cycle were:
A modeling contract with S.Models INC
A cover and spread in SimVogue Magazine
$100,000 contract with Covergirl Cosmetics
While there was no international destination for this cycle, the models traveled to Los Angeles for the last two weeks of the cycle. This is also the last cycle to be produced with the Sims 2.
The winner of the competition was 21 year-old Loca Torres, with Stella McCord placing as the runner up.
Contestants
(Ages stated are at start of contest)
Episodes
The Girl Who Snaps
First Aired: July 3rd 2012
11 finalists enter Sims Next Top Model and their first assignment is to undergo their first photo shoot. The 11 girls were shocked to find out that they would be photographed topless, Simonne disturbed by the idea storms out of the photo shoot, but comes back later when she was calmed down to take her picture. After the photo shoot, the girls move into their Miami loft to discover that there are 10 beds and 11 girls. Simonne decided to move Corinne's stuff and got into an altercation with her. At judging it was decided that Simonnes unprofessional ways were enough to send her packing.
First Call Out: Necole Oliveira
Bottom Two: Simonne Quinlan & Corinne Reed
Eliminated: Simonne Quinlan
Transformations
First Aired: July 3rd 2012
The ladies returned to their house where Antonella surpised them by giving them all makeovers, meanwhile the ladies were noticing that the house was beginning to get divided. Later, the ladies were shot wearing medieval time themed clothing and at panel it was decided that Mandy's inability to keep up with the other models sent her home.
First Call Out: Loca Torres
Bottom Two: Mandy Preston & Jacquie Brown
Eliminated: Mandy Preston
Maybe she's born with it...
First Aired: July 14th 2012
The 9 remaining models have a styling challenge with Cycle 1 winner Brooke Stanckie where there are 2 team captains and the winning team would be safe from elimination. At judging was decided that Jacquies mediocre pictures and Corinnes leadership dilemas were enough for them to be in the bottom two. Jasmine called Jacquie to continue in the competition, however she quit the competition so that Corinne could continue on in the compeittion. Regardless of Jacquies decsion to quit Jasmine still wanted Corinne eliminated. Antonella was shocked to see that Jasmine would eliminate Corinne especially since Jacquie quit and decided to resign from judging in Sims Next Top Model Cycle 3.
First Call Out: Loca Torres
Immune: Loca Torres, Necole Oliveira, Isis Lewis & Stella McCord
Bottom Two: Corinne Reed & Jacquie Brown
Quit: Jacquie Brown
Special Guest:Brooke Stanckie (Cycle 1 Winner)
S. Models INC
First Aired: July 23rd 2012
After a shocking showdown at judging Loca is hurt to know that Corinne was sent home. Kienna, fed up about hearing things concerning Corinnes elimination got into an altercation with Loca where she threw a drink on her. The next day, The ladies met with Carrie Anderson the new manager of S.Models INC to be tested on their runway walking skills and to do a test shot. At the challenge, Carrie revealed that Corinne was brought back into the competition. At Judging it was decided that Olivia should go home.
First Call Out: Corinne Reed
Challenge Winner: Stella McCord
Bottom Two: Olivia Briggid & Kienna Carter
Eliminated: Olivia Briggid
Evaluations
First Aired: July 24th 2012
Jasmine decided since the competition has reached it's half point that she wanted to evaluate all the models portfolios with the judges. After a long deliberation it was decided that 3 girls would be eliminated based on poor portfolio performances. At judging Jasmine eliminated Kienna , Isis & Aisha. Leaving Corinne, Necole, Loca & Stella to fight for the title.
First Call Out: Loca Torres
Bottom Four: Kienna Carter, Isis Molugny, Aisha Douglas & Corinne Reed
Eliminated: Kienna Carter, Isis Molugny & Aisha Douglas
Los Angeles
First Aired: July 31st 2012

The 4 remaining models battle out the second last week in the competition at a go-see challenge, which brings out the best and worst in some models. After go-see's the ladies met with the judges at panel and were told to say who had the most potential to become Sims Next Top Model and who had the least. Corinnes lack of confidence sent her packing as she was the only girl to not say that she had the most potential to win the competition. Leaving Loca Torres, Stella McCord & Necole Oliviera as the final 3 to fight for the title of Sims Next Top Model.
First Call Out: Stella McCord
Challenge Winner: Stella McCord
Bottom Two: Corinne Reed & Necole Oliveira
Eliminated: Corinne Reed
Special Guests: Go-see Clients
Sims Next Top Model Is...
First Aired: August 11th 2012

The final 3 models are put to the test at their Covergirl shoot where Necole gets into an altercation with Loca concerning her saying that Necole would be the least skilled candidate to win the competition. Which lead to an altercation at the photo shoot which made Necole look unprofessional at the photo shoot. At judging, Necoles behavior at the photo shoot was called out unexpectedly by Carrie as she stated that she wouldn't want someone in her agency to behave in such a way. The judges decided that Stella was stronger than Necole and Necole was Eliminated.
First Call Out: Loca Torres
Bottom Two: Stella McCord & Necole Oliviera
Eliminated: Necole Oliviera
The final 2 models Stella & Loca were left to walk in a fashion show with some Sims Next Top Model alumni and special guest Kelly Ann. Stella & Loca had a heart to heart with previous cycle winners Keshia Smith (Cycle 2) & Brooke Stanckie (Cycle 1). They attempted to make them feel at ease about walking their first official runway show. At judging after a tough deliberation it was decided that Loca Torres would be named Sims Next Top Model.
Final 2: Stella McCord & Loca Torres
Sims Next Top Model: Loca Torres
Special Guests: Keshia Smith, Brooke Stanckie , Avery Winthrop, Hailey Latiner, Monica Newport, Sydney Stefans & Kelly Ann
Summaries
Call Out Order
Jasmine's Call Out Order
Order
Episodes
1
2
3
4
5
6
7
01
Necole
Loca
Loca
Corinne
Loca
Stella
Loca
Loca
02
Loca
Corinne
Stella
Stella
Stella
Loca
Stella
Stella
03
Kienna
Necole
Isis
Loca
Necole
Necole
Necole
04
Stella
Kienna
Necole
Isis
Corinne
Corinne
05
Aisha
Aisha
Aisha
Necole
Isis
06
Mandy
Isis
Olivia
Aisha
Kienna
07
Jacquie
Stella
Kienna
Kienna
Aisha
08
Olivia
Olivia
Jacquie
Olivia
09
Isis
Jacquie
Corinne
10
Corinne
Mandy
11
Simonne
In episode 3, Loca, Stella, Isis, and Necole received immunity from winning the challenge, however they were still called in the order of best photo out of the 4. Additionally, Jasmine called out Jacquie's name but she decided to quit the competition and despite her decision, Corinne was still eliminated. It was later revealed in episode 4 that in a last minute decision, Corinne was saved and brought back into the copetition.
In episode 5, Jasmine revealed that she would be eliminating 3 contestants due to their poor performance in the first half of the season.
Photo Shoot Guide
Episode 1 Photo Shoot: Topless in Denim jeans
Episode 2 Photo Shoot: Medieval Couture
Episode 3 Photo Shoot: Maybelline Ad's
Episode 4 Photo Shoot: S.Models INC Test Shots
Episode 6 Photo Shoot: 4 Elements
Episode 7 Photo Shoot: Covergirl Ad & SimVogue Spread
Cast Members
Judges
Jasmine - Host, photographer & main judge
Trey Jones - Judge & creative director
Antonella Gianno - Judge & hair stylist
Carrie Anderson - Judge & S.Models INC owner
Other Cast Members
Brooke Stanckie - Cycle 1 winner
Viewers
#
Episode
As of 2012 (Hundreds)
As of 2020 (Thousands)
1
"The Girl Who Snaps"
6.05
1.8
2
"Transformations"
3
"Maybe she's born with it..."
3.11
0.7
4
"S.Models INC"
2.13
1.2
5
"'Evaluations"
2.22
0.55
6
"Los Angeles"
1.98
0.76
7
"Sims Next Top Model Is..."
1.58
0.63
Community content is available under
CC-BY-SA
unless otherwise noted.