Sims Next Top Model, Cycle 2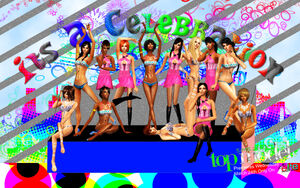 Format: Sims Online Reality Series
Produced by:
Elite Productions
Judges:
Tyra Banks (eps 1-5)
Jasmine (eps 6-9)
J.Alexander
Milton Davidson
Karolina Kurkova
No. of Episodes: 9 (4 Unaired)
Production
Length: 15 - 20 Minutes +
Original Run: March 25th, 2010 - July 29th 2010
Final Episodes Run: TBA
Broadcast
Website for streaming: YouTube
External Links
Official Website
Episode Streaming
Sims Next Top Model Cycle 2 , Is the second cycle of Sims Next Top Model, which premiered March 25th 2010. The tagline of the cycle is: "It's A Celebration". This cycle introduces 2 new judges joining host Tyra Banks and runway coach and judge J.Alexander Milton Davidsion the former assistant manager at Star Models and Karolina Kurkova legendary supermodel. However in episode 6 Tyra Banks controversially left the judging panel and the role of being a host and she was quickly replaced by supermodel Jasmine. Thus meaning, cycle 2 was the last cycle featuring Tyra Banks as host and the first cycle having Jasmine as host. The overseas destination of this cycle wasVancouver, Canada. The winner of this cycle was 18 year-old Keshia Smith.
The prizes for this cycle were:
A modeling contract with Star Models (Star Model Management)
A cover & 6 page spread in Seventeen Magazine
100,000 dollar contract with Covergirl Cosmetics
The following prize was removed:
A modeling contract with Master Model Agency
Casting
This cycle's casting protocol was the same as Cycle 1, Youtube viewers created models for the cycle. This protocol did not continue in Cycle 3 but returned for Cycle 4.
Episode Summaries
The Girl Who Pledges
First Aired: Wednesday March 25th, 2010
In the season premiere, 13 girls arrive at their first photo shoot and they are assigned to portray different college stereotypes.
Contestant
College Stereotype
Keshia
Artistic Girl
Hillary
Sorority Sister
Helena
Amani
Jnessa
Crazy Girl
Kasia
Misfit
Yumika
Athlete
Isabell
The Lesbian Couple
Susan
Sydney
The Actress
Naima
The Preppy Girl
Verah
The Smoker
Whitney
The Tramp
After the shoot, the girls move into their lavished "Top Model" house. Soon, the girls discover that there are only 12 beds and 13 girls. Conflict arises as Whitney takes a nap and completely forgets about looking for a bed. When she wakes up she throws a temper-tantrum and picks a fight with Keisha. After the drama, the girls recieve their first and last Tyra mail telling them they will meet with the judges for their first elimination. At judging, Tyra praises Keshia, Naima, Verah and Jnessa for an amazing pictures and decides the bottom two.She later eliminates Yumika due to her inablilty to connect with the camera and keeps Kasia, despite her weak picture and bad makeup job.
First Call Out: Jnessa Anderson
Bottom Two: Yumika Parks & Kasia Moore
Eliminated: Yumika Parks
Featured Photographer: Aidan Smetaon
Special Guests: Ruby Hussey , Aidan Smeaton
The Transformation
First Aired: Wednesday March 31st, 2010 The 12 remaining girls get late night makeovers and some girls are satisfied and some aren't, especially Naima. The next day, the girls have a Liana Sims photo shoot challenge where they had to find clothes made by Liana Sims, however not all the clothes were made or affiliated with liana sims. Hillary won the challenge for finding an outfit by Liana Sims and as her prize she won immunity from the next elimination and the ability to nominate one girl for elimination. When the girls returned to the house Hillary was bombarded with questions about who she would nominate meanwhile, Naima expressed the fact that she didn't want to be in the competition anymore because of her drastic makeover change. Although, Hillary heard her talking expressing her true feelings about the competition. And at panel Naima and Helena's pictures landed them in the bottom two. And with a tough decision, Tyra realized that Helena didn't want to fight for her spot in the competition even though Naima was nominated for elimination. And Helena was eliminated.
Immune / First Call Out: Hillary Bushnell
Nominated For Elimination: Naima Rodriguez
Bottom Two: Naima Rodriguez & Helena Douglas
Eliminated: Helena Douglas
Featured Photographer: Milton Davidson
Special Guests: Loran (Liana Sims 2 Model), Kayla Peterson
Everything's Compact
First Aired: Thursday May 27th, 2010
First Call Out: Kasia Moore
Bottom Two: Naima Rodriguez & Amani Olsanu
Eliminated: Naima Rodriguez and Amani Olsanu
Featured Photographer: Michael Douglas
Special Guests: Ruby Hussey, Michael Douglas
Malibu Beauties
First Aired: Monday June 21st, 2010
First Call Out: Isabel Watson
Bottom Two: Whitney Clear & Verah Rowwan
Eliminated: Verah Rowwan
Featured Photographer: Mike Murrals
Special Guests: Aidan Smeaton, Navetta Johnson, Mike Murrals
"Face" Your Fears
First Aired: Sunday July 25th, 2010
First Call Out:
Bottom Two:
Eliminated:
Featured Photographer:
Special Guests: Bahar L'amour
Contestants (In order of elimination)
(ages stated are at time of contest)
Contestant
Age
Hometown
Outcome
Yumika Parks
18
Boston, Massachusetts
Eliminated in Episode 1
Helena Douglas
20
Dallas, Texas
Eliminated in Episode 2
Naima Rodriguez
19
Lucky, Louisiana
Eliminated in Episode 3
Amani Olsanu
18
New Jersey, New York
Verah Rowwan
23
Memphis, Tenessee
Eliminated in Episode 4
Susan Taylor
23
South Centeral, California
Eliminated in Episode 5
Hillary Bushnell
19
Miami, Florida
Quit in Episode 5
Whitney Clear
18
New York, New York
Eliminated in Episode 6
Kasia Moore
19
Buffalo, New York
Eliminated in Episode 7
Isabell Watson
18
Fairbanks, Alaska
Eliminated in Episode 8
Jnessa Anderson
20
North Hollywood, California
Eliminated in Episode 9
Sydney Stefans
22
Chicago, Illinois
Runner-Up
Keshia Smith
18
Harlem, New York
Winner
Summaries
Call Out Order
Tyra & Jasmine's Call Out Order
Order
Episodes
1
2
3
4
5
6
7
8
9
1
Jnessa
Hillary
Kasia
Isabell
Hillary
Keshia
Keshia
Keshia
Keshia
Keshia
2
Keshia
Sydney
Verah
Keshia
Keshia
Sydney
Sydney
Jnessa
Sydney
Sydney
3
Susan
Kasia
Keshia
Kasia
Jnessa
Jnessa
Jnessa
Sydney
Jnessa
4
Naima
Verah
Whitney
Jnessa
Isabell
Isabell
Isabell
Isabell
5
Isabell
Whitney
Jnessa
Sydney
Kasia
Kasia
Kasia
6
Sydney
Keshia
Hillary
Susan
Whitney
Whitney
7
Verah
Jnessa
Isabell
Hillary
Sydney
8
Hillary
Amani
Susan
Whitney
Susan
9
Helena
Isabel
Sydney
Verah
10
Amani
Susan
Amani
11
Whitney
Naima
Naima
12
Kasia
Helena
13
Yumika
In episode 2, Hillary was immune from being Eliminated and also nominated Naima for elimination
In episode 2, Naima was nominated for elimination.
In episode 5, Susan appeared at panel during the elimination ceremony to announce that se was going to quit the competition and Sydney and Whitney were saved from elimination.
In episode 6, It was revealed that Hillary quit the competition for personal reasons .
Photo Shoot Guide
Episode 1 Photoshoot: College Stereotypes
Episode 2 Photoshoot: Liana Sims
Episode 3 Photoshoot: Posing under a tunnel
Episode 4 Photoshoot: Malibu Swimsuits
Episode 5 Photoshoot: Avant Garde Beauty Shots
Judges
Tyra Banks
J.Alexander
Milton Davidson
Karolina Kurkova
Other Cast Members
Jay Manuel - Photo Director
Kaylah Peterson - Hair Stylist/ Star Model Agent
Viewers
| # | Episode | Viewers (Thousands) |
| --- | --- | --- |
| 1 | "The Girl Who Pledges" | 9.4 |
| 2 | "The Transformation" | 3.6 |
| 3 | "Everything's Compact" | 2.2 |
| 4 | "Malibu Beauties" | 3.8 |
| 5 | "'Face' Your Fears" | 5.0 |
External Links