Biography
Valerie Castillo (nee Scroll, previously Youth) is a Sim in the town of Pineview. In the beginning she is a child living with her divorced mother, Bonnie. Once she becomes a teenager her mother marries Ken Rossim. She and her new step-father form a strong bond. She begins to date Davis Schwann, but later learns of his player status and that he was cheating on her with her best friend Annabel Wilt and she broke-up with him.
She was happy when her mom and Ken had Clyde her half-brother. She then noticed and began to date the shy Darwin Youth. The two are still together. She recently aged to an adult and moved out and into her wn apartment with hopes of opening her own orchard and wishes to sell the produce she makes and to possibly marry Darwin. And when he proposes, she accepts. However, days before their wedding she begins to have second thoughts. She tells Darwin she needs some space, she then runs into Davis Schwann and the two kiss. After the kiss Valerie then realizes that she does love Darwin and the two marry in the park with all their loved ones there. Valerie then becomes pregnant with her and Darwin's child. She then gives birth to a daughter, Martine.
Marital Rift
She and Darwin for a while maintan a happy marriage. When Martine becomes a child, she and Darwin reach a crossroads. Valerie has always had a dream of opening her own orchard and selling the produce as her career. She is un-satisfied with her job as a substite teacher. She tells Darwin the need to move out of their Duplex and buy some land. He tells her they don't have the money for that and won't for a while now.
She and Darwin get into a series of fights and arguments. One night Valerie storms out and goes to the local cafe to calm down there she runs into, once again, Davis. They begin to talk and she begins to think she made a mistake marrying Darwin. In a moment of weakness and vulnerability she and Davis kiss and head back to his house and woo hoo. Valerie then goes home guilt ridden, but still angry with Darwin, blaming him for ruining her dream. They then argue and Valerie tells him about Davis and what they did. Darwin suggests they need to seperate for a while but Valerie doesn't want to seperate she wants a divorce, and they break-up and Valerie and Martine move-out. At first Valerie struggles keeping up with the bills but after she manages to get some produce grown and sold she begins raking in the money. Though Davis stops by regularly she tells him what they did was a one time thing.
When her mother and Step-Father, throw a birthday party for her half-brother, Clyde, Valerie and Martine run into Darwin, the two share an awkward moment, but move-on. After Clyde ages into an adult, he proposes to Mehrissa, she accepts. After seeing this Darwin re-proposes to Valerie, she rejects, crushing him. Then after all the happiness and heartbreak, Ken announces he and Bonnie are moving to the Sim-ji Isles, Bonnie then argues with Ken. Ken then states he is going, with or without Bonnie.
The Fire
Valerie and Martine attend Melissa's grand-opening and the after party in the park. While there Valerie runs into Darwin again and they share yet another awkward moment. Darwin then announces, before Clara sets the fire, that he will be leaving Pineview but will send to visit his daughter from time to time. This upsets Valerie. She begins to re-think the choices she has made, again.
Once the fire gets out of control she and Martine manage to get out of the fire, all right. The next day she begins to think about Darwin and how he will be leaving soon. Then to her suprise both Davis and Darwin are coming at her. However, she doesn't know that both their interactions with her are to ask her to marry them... (Cliff-hanger)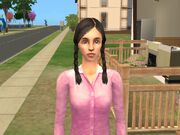 When the stories pick up 5 years later, it is revealed that Valerie accepted Darwin's proposal and the two re-married. They have become a functioning and loving family. Valerie has begun a grocery business with her own produce and Darwin is climbing the ladder in his career. Martine has just aged into a teenager. However, Davis still lusts after Valerie. She is shocked when her long absent father moves to Pineview and informs her that him and his wife, her step-mother, have divorced and that she is raising their son, Valerie's other half-brother, Dusty, back in the city. She, along with Clyde, is happy when her mother and step-father re-marry. Her father then leaves Pineview in hopes of making it work with his estranged wife, Val's step-mother.
She and Darwin consider having a second child. However, with Martine as a teenager they decide to not have more kids. When Davis decides he wants Valerie, he goes over to her home and professes his love for her. Unlike the other times where Valerie would give in, this time she rejects Davis and tells him she loves Darwin. She is shocked when she walks in on Martine making out with Jeb. When Darwin tries to fix the TV and dies Valerie becomes deeply saddened and grief-stricken. Almost the entire negihborhood arrives for Darwin's funeral. Valerie then goes into an immense state of sorrow and begins only wearing black. When Clyde informs her of his and Betty's enagement she becomes saddened even more as he is love and she is now a widow.
Valeire grieves for a while then a new neighbor to Pineview, Ramiro Castillo notices the widow Youth and asks her out. Valerie is at first hesitant but later accepts and the two begin to date. They date for a while. Then Valerie makes a discovery, she is pregnant. Ramiro then offers to marry her, Valerie accepts and they marry in a quiet ceremony at home, days later she gives birth to a son, River. At River's birthday party, Emma-Lee Schwann attempts to kill Valerie via a fire so Davis will love her. However, her plot is foiled by River and the firemen.
Valerie and Ramiro then age into Elders, the attend a party in the park that was thrown for all the Adult-Elder aging sims. When Clyde leaves town to see Mehrissa he leaves Faline with Val and Ramiro to raise in his absence... (Cliff-hanger)
When the stories resume, 3 years later it is revealed that Clyde re-married Mehrissa and they now have Faline and they live together. She and Ramiro are still married and River is now a child. However, she questions her marriage when she learns that Sigrid revived Zed. She then considers leaving Ramiro and reviving Darwin. She talks to Martine about it, she later realizes that Darwin would have wanted her to move on, and it wouldn't be fair to Ramiro and River. She then embraces her new family. When she gets word that Martine and Johann have divorced she goes to her daughter and comforts her.
Even though Johann cheated on her Valerie suggests that she go back to him, if he is willing. As she divorced Darwin once for something small and petty she doesn't wish the same upon her daughter. Martine hears her advice but does not take it. She is happy when she learns that Martine and Johann finally admitted their true feelings and re-married.
Valerie and Ramiro then pass away, peacefully. Almost all of Pineview shows up for their funerals. And though Valerie was married to Ramiro Castillo, at the time of her death, she was buried next to Darwin.